AUC Digital Service Desk
Do you have a specific question not answered on our website? Opening a "call" in the digital AUC Service Desk allows you to send us your question directly and our professional staff team will work to resolve your issue.
These various departments include, but are not limited to:
Registrar's Office
Admissions & Housing
Services & Communications
Board of Examiners
AUC Scholarship Fund
Community Projects and Internships
International Office (Studying Abroad)
SIS and Canvas support
(Class)room reservations
Please allow for up to four (4) working days for us to answer your question. Should your request be more urgent, then we recommend that you visit the AUC service desk in person to get an indication of what can be done for you short-term.
After opening a "call", you will receive a confirmation email and "call" number. Please record your number for future reference so that you avoid opening multiple cases on the same topic (which can delay your response time).
Requesting documents, statements, official transcripts or actions
Through the digital AUC Service Desk you may also request several important official documents directly, which may be scanned and emailed to you or can be picked up from AUC's reception desk. You may also ask for specific actions from the registrar's team such as a course addition, or dropping a course, or even signaling to our team that you wish to terminate your enrolment completely - directly through the digital AUC Service Desk.
Documents that can be requested digitally:
Official transcript (list of grades)
Statement to confirm your proficiency in English (being enrolled in an English-taught programme)
Proof of enrolment
Statement of (expected) graduation
Actions:
Course additions
Course load reductions
Scholarship renewal
Informing AUC of your withdrawal/termination of your enrolment as a student
AUC Service Desk Office Hours
From Monday to Thursday from 12.30 to 13.30, office hours are held by an AUC staff member representing the AUC Service Desk.
Office hours are hosted in-person at the reception desk in the AUC Academic Building from Monday to Thursday. You can find the schedule of office hours in the table below. Please note that office hours are not held during class-free weeks or when the AUC Academic Building is closed.
Service Desk Office Hours schedule
| | | |
| --- | --- | --- |
| Day | Time | Location |
| Monday | 12.30-13.30 | On-Campus at the AUC Reception Desk |
| Tuesday | 12.30-13.30 | On-Campus at the AUC Reception Desk |
| Wednesday | 12.30-13.30 | On-Campus at the AUC Reception Desk |
| Thursday | 12.30-13.30 | On-Campus at the AUC Reception Desk |
During office hours, you can talk directly to AUC staff for advice. An AUC professional staff member might be able to answer your question right away or they will help turn your question into a Digital AUC Service Desk request for another (more specialised) colleague to resolve your question as quickly as possible. Depending on the nature of your request, please keep in mind that it may not be immediately resolved, but will always immediately be forwarded to the correct staff member. This typically takes 1-3 business days depending on the complexity of your request and time of the year.
Opening hours
During the semester, the AUC Academic Building (Science Park 113) is open:
Monday - Thursday: 08.00 - 22.00
Friday: 08.00 - 19.00
Saturday - Sunday: 12.00 - 18.00
For information about holidays, class-free weeks and exceptional weekend closures, please view the Academic Calendar via the link below.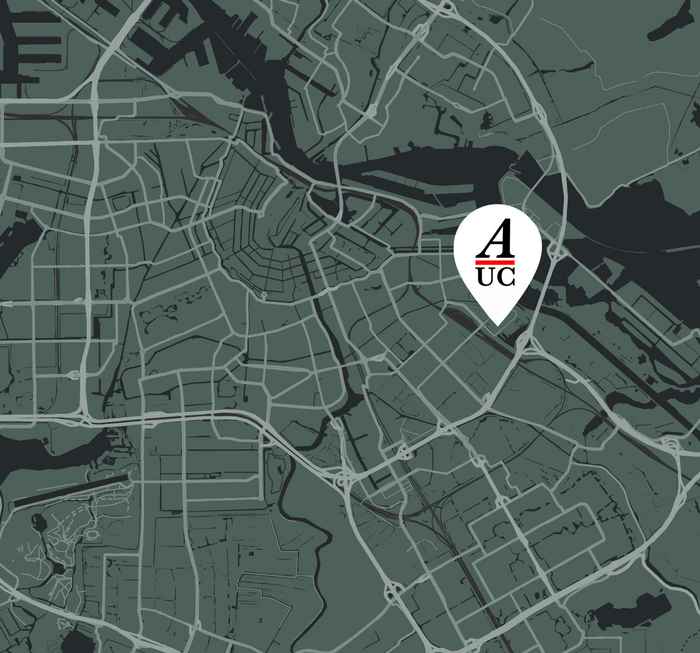 Address
Postal address
Amsterdam University College
PO Box 94160
1090 GD Amsterdam
The Netherlands
Visiting address
Science Park 113
1098 XG Amsterdam
The Netherlands
T: +31 (0)20 525 8780 (reception desk)